We all like good stories and brands know it.   That's why it's becoming more and more common to think of the story before the impact.  That's what storytelling is.  Today we are talking to Sebas Cangiano from Virgen Extra, and Pablo Juncadella from Mucho Studio, who can explain this idea a little better.
Christmas is full of campaigns that tell stories of reunions, family time, and excitement.  El Almendro, Suchard, and the Spanish Christmas Lottery don't sell us their advantages, but rather the emotion that their stories contain.  Storytelling is the tool that they use to do this.  Two people that know all about this are Sebas Cangiano and Pablo Juncadella, two creatives with a great deal of experience behind them and whose studios, Virgen Extra and Mucho, have recently collaborated on the project "Inspiración, Conexión & Creación" ("Inspiration, Connection, and Creation"), creating a story bring the video and publication that they are developing together.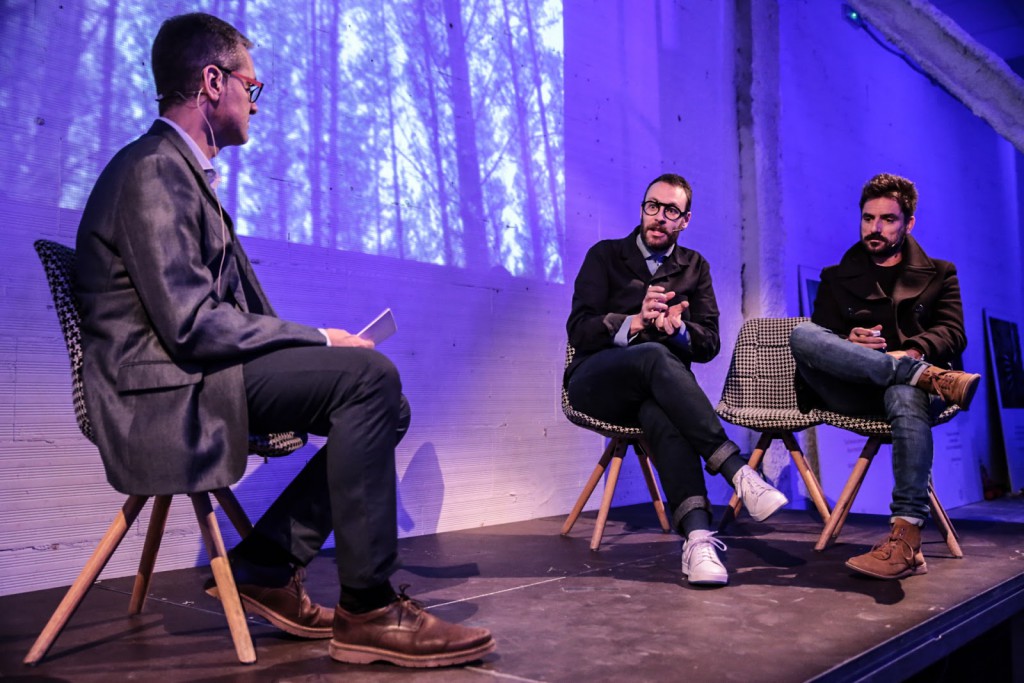 What is storytelling?
For Sebas Cangiano from Virgen Extra, storytelling "is a word that nowadays is found in 100% of communication spaces.  And that's how it should be.   Very few times in history have companies needed to differentiate themselves through something more than the visual aspect.  Nowadays, that difference is complemented by a story, by a "why", by another element that allows people to feel that they have a relationship with a brand.    The word storytelling  is in fashion, but the fact that a brand tells its story is something that has always been present in every example of commercial communication that has been successful".
Pablo Juncadella from Mucho gives this word a lot of importance, a word which "in reality is nothing more than making sure that there is a narrative behind a product or brand: storytelling is just being conscious and strategic with that narrative.  That's why it can be a double-edged sword, since sometimes it is stretched in an artificial way".  He is a little critical of narratives that lack content, and says that "when they are natural and genuine, because they explain the "why" of a product or brand and their emotional link with their audience and consumer, they are very positive".
This is how storytelling is used to create a campaign
"There are campaigns which have gone down in history for the stories they have told and for the conceptual and literary space that they appropriated", explains Sebas Cangiano, for who the "Just do it" campaign by Nike and the "Think different" campaign by Apple continue to be valid examples of stories which continue to generate positive emotions in people despite the many years that have passed.  Putting the "classics" to one side, for Sebas the "Made by you" campaign by Converse represents an incredible case of stories and "the amount of channels that currently exist that allow these stories to not only be told by the brands themselves, but also by all those that take part in the story".
But the need for a coherent story is not limited to big brands.  Mucho recently participated in the creation of the storytelling behind Casa Vicens, the first house build by Gaudí and the prelude to his architectural body of work.   They are currently working with EIF (European Investment Fund) to construct the narrative for their finance programs for PIMES in Europe.  For Pablo Juncadella, "the capacity for starting to sell products from an almost humanist need is undeniable".  And one of the "magicians" that knows this better than anyone is Elon Musk.
If you want to know more
Sebas Cangiano recommends "The Copy Book" (Taschen) as essential reading for learning and immersing yourself in the details of business writing.   But in general, the most fundamental thing is to "read, a lot, everything, anything, always, all the time.  That is the only way to know how to write stories, be they personal or those that must to withstand corporate needs".
Are there any campaigns or books that you recommend?