Unique projects require unique materials.  We're taking a look at wood veneer, an essential material in the world of interior design for spaces that require a made-to-measure look to express their sophistication.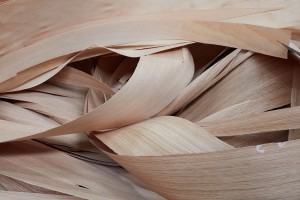 Mass production no longer sells.  In the worlds of fashion, design, and trends, uniqueness is being demanded more and more in order to avoid the sense of the "everyday".  There is a pervading sensation, more so in the world of interior design and home design than anywhere else, which asks the question how can we achieve an atmosphere of exclusivity?
In an industrialised, robotised world, where everything is standardised in order to achieve the same specifications for each product, the idea of individuality has arisen in response.  Slow design and the rise of artisanal professions are testament to this.  It is precisely this mastery of materials which will help us reach our goal of obtaining authenticity.  Here we analyse this trend and a material which supports these very concepts: wood veneer.
The trend of mastering materials
In Trendbook Finsa 2018-2019, the Master trend is noted as one of the leaders in interior design and decoration that will dominate over the next two years.  The search for luxury, defined as everything outside of our basic needs, takes us down the path of traditional techniques and the highest standards.
Master is the third state of mind through which we pass during the creative process.  It follows the investigation of our ideas (Wonder) and the exploration of new fields (Explore).  In this third state, with the idea now formed in our mind, we must trust in the craft and the right materials to realise the project.  Trusting raw materials and an expert hand brings us back to artisanry and a renewed interest in wood as a quality material. This is thanks to its flexibility and sustainability, and because, when treated carefully, is sure to provide an excellent result.
Wood veneer gives chape to your ideas
Wood veneer connects us to the very essence of what a primary material is.  Its look, feel, and warmth remain intact thanks to a fine layer of natural wood applied over a technical wood base.  This means that it can be used in a variety of ways, including in doors, furniture, and panels, among others.
Photo: The production of wood veneer combines industrial processes with purely artisanal work
This material, significant because of its artisanal versatility, is a unique and customisable product that can provide a wide range of decorative surfaces.  A different result will be obtained depending on the type of tree from which it is produced, as well as the type of cut (rip-cut or cross-cut) used in production.  The joining techniques applied also influence the decorative effect that obtained: bookmatching, which is the most common, slipmatching, which creates a repetitive pattern, or mixmatching, which joins the sheets randomly, allowing the creation of different structures, different width combinations, and different colours, amongst other variations.
What do we end up with? Everything from natural to multilayered veneers, from natural tones to smoked or dyed colours, as well as polished and coarse finishes.  One of the projects which best shows the properties of wood veneer is the antique store Largo Recorrido, located in Cizur Menor  in Navarra.  Its design won the Premio Arquitectura 2016 del Colegio Oficial de Arquitectos Vasco Navarro (COAVN) (the 2016 Architectural Prize from the Official Basque and Navarran College of Architects) in the interior design category.
José María Zarranz Olivero, Xavier Guindano Laborda, and Alai Zarranz Olivero came up with "the answer to multipurpose needs" with the "backdrop for a stage on which many different things could play out".  In this way, the space could adapt to the many different objects it plays home to – it is slightly hodgepodge as there is an everchanging range of products, from small lamps to enormous pieces of furniture.
With the idea of giving the store "a warm and homey environment", they placed wood panels on the ceiling.  This design decision placed the ceiling at centre stage, while also showing the versatility of the material.
And now, what material will you use for your most authentic projects?