"I don't want to have a very big studio in which my job would be to coordinate people, because the thing I enjoy the most is actively designing" says Tomás Alonso (Vigo, 1974).  It all started because of his desire to be a car designer and his career path has made him one of the most internationally-recognised Spanish designers. He is a founding member of Okay studios, a group of independent designers based in London, and he invited us to connect with his ideas about design.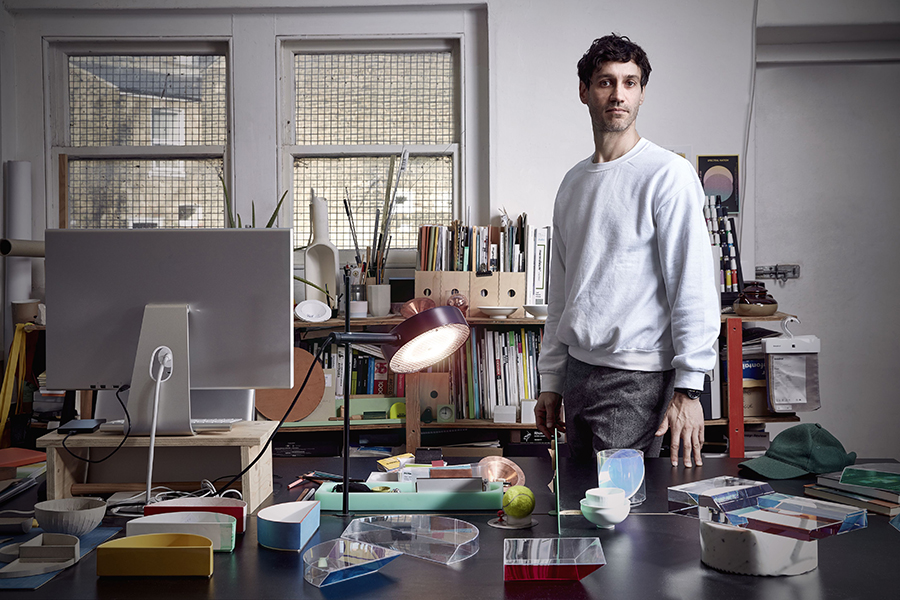 Some of your clients are companies like Camper, Ikea, Swarovski…Is it easier to work with big brands outside of Spain?
My experience is of having started my career in London and having studied at a school like the Royal College, which has a certain reputation and which acts like a springboard for those types of projects.  I think that there are more opportunities in a city like London, and more people organising exhibitions which allow you to be more visible, and that helps.
After that, every client is a different story, but you keep doing things that open doors, and you keep creating a portfolio of work and experiences that open new doors.  It is a mix of what you do, how you work, word-of-mouth, publications, exhibitions etc.  This means that with every passing year more people contact you because you have more experience and more references that potential clients see.  The idea is to try and focus on each project as best as possible, and we try to work on less things but to work better so that the result is good and speaks for itself.
For example, Camper contacted me with the idea of doing a series of "Camper Together" stores because they had seen my work at a few exhibitions in London and Paris, in particular a series of furniture which we made by working with a steel and iron tube.  Camper saw this collection, they liked it, and they wanted something in that style for their stores.
What is your creative process like? Can it be seen as so-called "slow design" or minimalism?
I have seen many articles that apply this label to our work.  I think that if you work in a considered way, looking for solutions, taking your time, it is slow, but I see that as a made-up label.
Something that is always repeated in my process is trying to have a period of "gestation", a period of absorption to try to understand the whole context of what we are about to start.  This immersion in the context of who you're working with is crucial for me, because the more you understand that, the better the solutions that you can propose are.  And understanding industrial processes is essential.  If you don't understand the production process it's impossible to get a good result.
That is the fundamental part of every project.  Once you have that you can start to join the dots and suggest something which works within that context, together with the client.  Because it's not a one-way process, it's a tug-of-war.
Which do you prefer – designing spaces and product design?
I like both.  What I like the most and what fulfils me the most when we see what we have done and where we are heading is the idea of not repeating ourselves, of working on different things.  Variety is attractive to us and allows us to keep growing.  I don't like the idea of closing the doors and focusing on just one thing.  This applies to the type of project, as well as to the type of client and the materials.  For example, lately we've been using paper in various projects, but that doesn't mean that it's my favourite material.  We have used metal, wood, glass (with Swarovski), porcelain (2016/Arita)…That variety of materials is also very enriching.  You have a favourite for a time and then that favourite changes.
Function or form – what is the key to a good design?
For me, a good design is one that understands what the thing you're designing is for, who it's for, why, how….You put it all together and you find a solution that is balanced and provides an answer for that context. Depending on the initial context, form and function are very different, but there is always a functional part.  It is a function that is sometimes more pragmatic and concrete, with which anyone can identify, or that is sometimes more specific and orientated toward a type of person, client, or audience.  For example, if you're working with a gallery owner who wants to explore a concept, the function of that design is not to create the most practical table but rather to transmit that experimentation.
A lot is said about the "democratisation" of design, but is good design expensive?
Most of the time, yes.  But it's about the companies that we work with and the quantities that end up being produced.  Many are small in a global world and perhaps they are the ones who see design as something that has to be proportional to its value.  The economy of scale also influences this, because producing only 1,000 units of something is different to producing 100,000.
Of course design should be accessible and democratising it is essential for allowing it to reach everybody, but it must be done in a consistent way, without devaluing it.  We are living in a time in which prices of things are not what they should be: the price is the most important thing at the expense of many other things.
What qualities should a good designer have?
Curiosity and a tangential way of seeing the world, the capacity to see things from many points of view.  If you are curious you are always observing, seeing, and analysing.  It is also important to try and look for different solutions.  In the end, the majority of studios that work well are those that go beyond what has been done before.
What would be your advice for a designer that's just starting out?
I would tell them to have a lot of patience because the profession is difficult and takes time, like almost everything in life.  With the experience that you accumulate, you will work better, but it's a slow process and it's important to understand it from the beginning and not try to tackle things too quickly.  It's also important to be open to trying new things, to not being afraid of throwing yourself into something and getting out of our comfort zone.  A designer is someone who is comfortable in uncomfortable situations.
If you had to choose just one of your projects, which one would you choose?
The process and the path are so organic that I couldn't choose…it changes, like your favourite material or type of project.  But it was with Stamp Cutlery that I realised the important relationship between the form of an object and how and why it's made. I was looking for an alternative to disposable plastic cutlery and I made them in aluminium, because it was a recyclable and disposable material.  I was also looking for a cheap way to produce them and I didn't want to use a lot of material.  These parameters that I set out for convenience made the shape of the cutlery what it was.  The ingredients provided the form.  That was the first project that was born this way and it made me realise that for me it's what allows things to be well thought out and well-made.
What is your dream project, that challenge that you still haven't tackled?
Over the last two years we have been working on designing the whole interior of a house with every piece of furniture being made to measure, which is very different to what we have done before.  It's a project that I'm really liking a lot, and one of the things that I would like to do is design a house from scratch but for my family.  It's also a different way of working, but we never have time to do it the way that we would do it for others.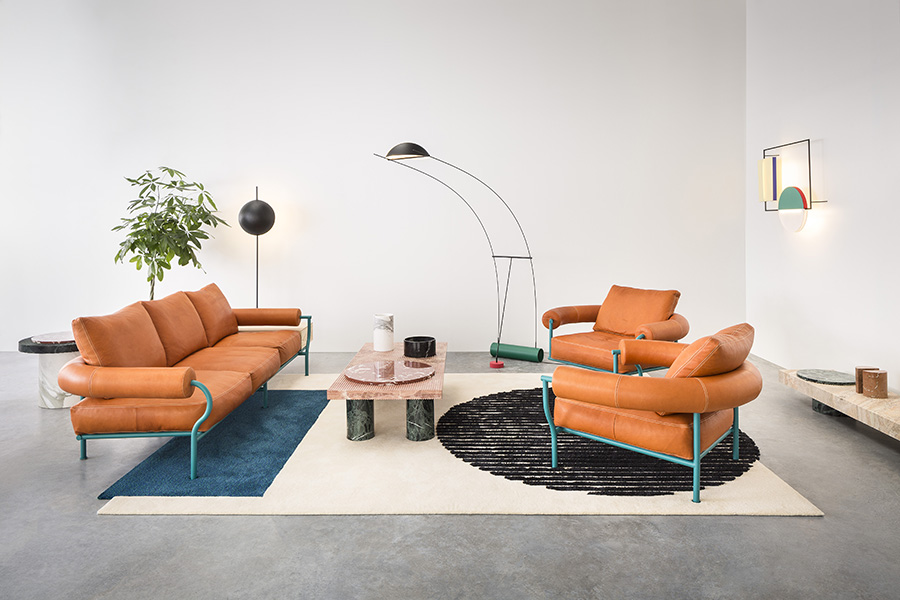 Idea, outline, working with materials…Which part of your job do you enjoy the most and why?
I like putting all the ingredients together that you observe when you study the context and start to see possible solutions, first thinking and outlining, and then realising it in 3D on the computer or doing physical tests in the workshop.  The dialogue between these three techniques for bringing something to fruition is the part of the process that I like the most.  The part that I like the least is taking all that toward a final result, because many other external factors intervene in this part of "making it real".
Does inspiration arise or is it created?  Do you have a specific ritual, do you consult a particular publication that is like a bible for you…?
The work method and inspiration go together but are also separate.  Inspiration arises in your daily life.  Being a curious person means you are always absorbing.  Travelling opens doors to different things, but so does seeing exhibitions, films, visiting factories, seeing the work of other designers…Then you have to channel all of that and you need a more isolated and peaceful gestation period during which you put all that behind you and try to see things in a neutral way.  For this part of the process, I like to create calm situations, in surroundings without the internet, like a park, a plane, swimming, or riding a bike…by doing activities that are not related, your mind is thinking without external influence.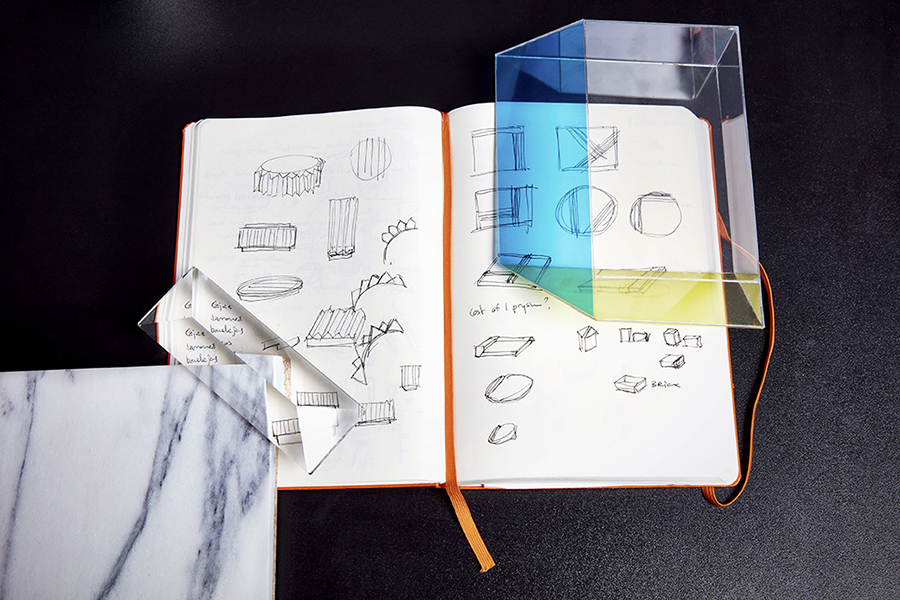 Are you more digital or analogue?  If it's even possible to be analogue in the 21st century…
I think it's difficult to isolate them both.  I am digital, because we are in the world that we are in right now.  But the analogue part of drawing and manually representing something cannot be substituted and I don't see it as something romantic or antiquated, it seems essential to me for a designer to have that physical contact with what he is doing.  We have a workshop in the studio where we can make things, and we also have the advantage that nowadays digital tools allow us to visualise, absorb, produce results in a much faster way.
How did you become a designer?
When I was little I always drew more objects than people and when I was 10 or 12 years old I wanted to be a car designer.  But when I started to understand what being a designer meant, I realised that it was design that I liked.  It was a goal that made me start taking steps forward from a very young age.
The idea of having an independent studio that allows me to work on more than one type of thing has also been there for a long time, since I started to see projects from the Eames' studio, Castiglione…that was more attractive to me than working for a company and doing just one type of thing.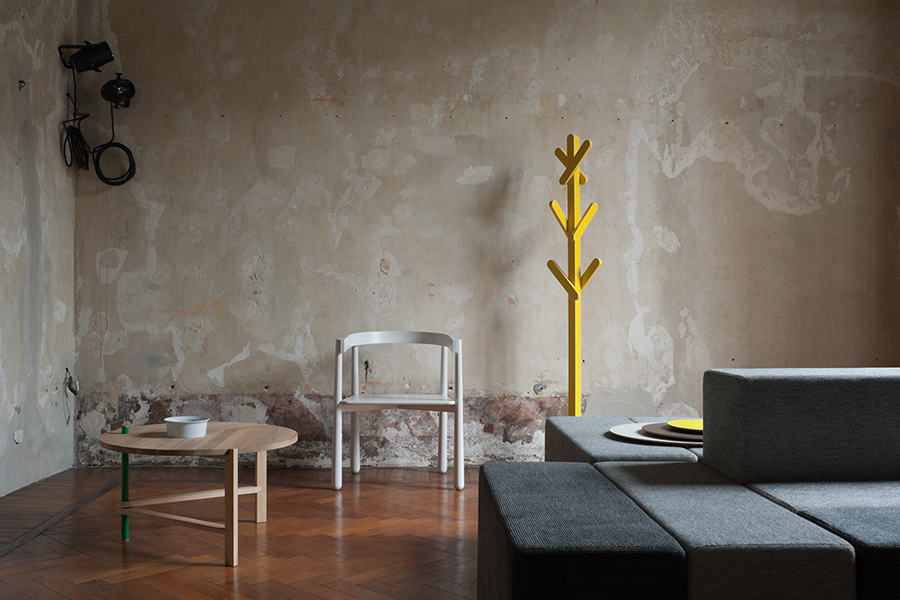 Who are your design inspirations?
Eames, Castiglione, Prouvé, Magistretti….They are people who did big things in the world of design, who work in a way that I try to work in too: very close to the client and looking for appropriate solutions for what you're doing but in a different way to what has been done before.  I think they had the advantage that things were done with more time and there was less saturation.  Perhaps that's why it is easier to idealise what they did in their era.
Which architectural or design professional would you like to connect with/collaborate with?
I share a studio with other designers (Okay Studio) and sometimes we do something together.  I've done projects with Jordi Canudas and Andrew Haythornthwaite.  I think it's good not to pigeonhole the way you see things, that it's part of the enrichment process.  I teach classes for a master's at ECAL and I really like working with students on their final projects.  It is a little different because of the relationship between teacher and student, but I like working with unknown designers.  They don't have to be famous, they simply have to be someone that has a way of doing things that is different to my own.  There has to be an affinity, but yes, I like to collaborate.